This next device is for any vaporizer enthusiast out there that are looking for a better way of achieving the perfect dab every single time that you use an electronic vaporizer. As you most likely know (or at least should know), most vaporizers that are currently available for purchasing on the market have little or absolutely no temperature control whatsoever, as they're simply calibrated to continuously heat up until a certain point in time, which then, simply has these low-end vaporizer models to cut off. Ultimately, that leads to a huge discrepancy in the temperature that you're taking your dabs at. Now, when considering nowadays ultra-modern technology advancements, that is simply unacceptable for a 2021 electronic vaporizer device. This is where the Dr. Dabber Boost EVO comes in.
The Dr. Dabber Boost EVO is a high-end battery-powered vaporizer e-rig that's easy-to-use, featuring 6 temperature control settings, quick heating times, and smooth flavorful hits of vapor, making it a solid choice to go with when compared to most other models.
Moreover, it's important to note that while this device does in fact lack of a Smartphone Companion App to go along with it, all of its many cool technological features end up making the Boost EVO a very solid choice of electronic vaporizer e-rig for you to go with, as those same features easily outweigh the lack of a mobile App.
Now, without further ado, let's have a look at the Dr. Dabber Boost EVO and check out everything that this battery-powered vaporizer e-rig has to offer you.
DESIGN & SPECS
Starting of with the e-rig's actually size, the Dr. Dabber Boost EVO measures exactly 2.83 inches in diameter, going just to 4 inches tall without its glass attachment (meaning its glass vapor path) installed into the main unit. Then, once fully assembled (meaning with its glass vapor path attachment added to it), the whole thing stands up just to 7.75 inches tall, which still makes it reasonably compact to carry it with you wherever you go, including to a friends house, a weekend on a outdoors cabin, or even while you're busy working on-the-go.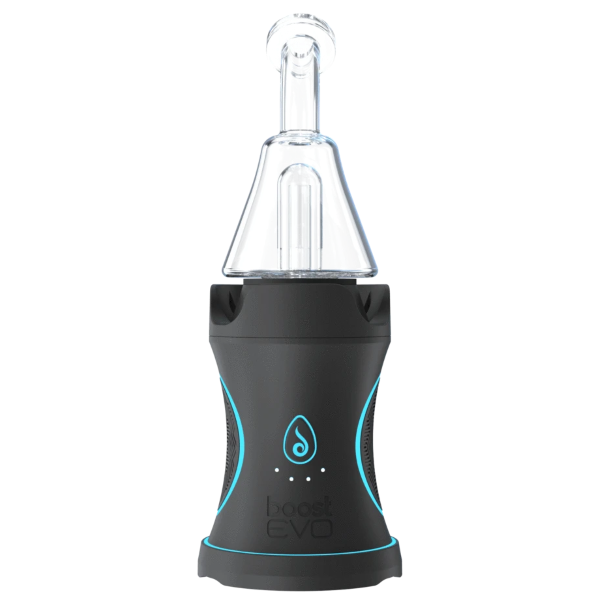 Speaking of carrying the Boost EVO with you, this battery-powered e-rig comes together with an included Protective Carrying & Storage Case that's extremely sturdy, meaning it's very (and I mean VERY) durable.
Furthermore, while its Carrying & Storage Case's sturdiness and added durability might give you the impression that this case will end up proving to be somewhat heavy, you'll actually be glad (and probably surprised) to know that the unit's ultra-durable protective carrying case is in fact quite lightweight. This is something that I definitely did not expect either, but that I was very delighted to find out about.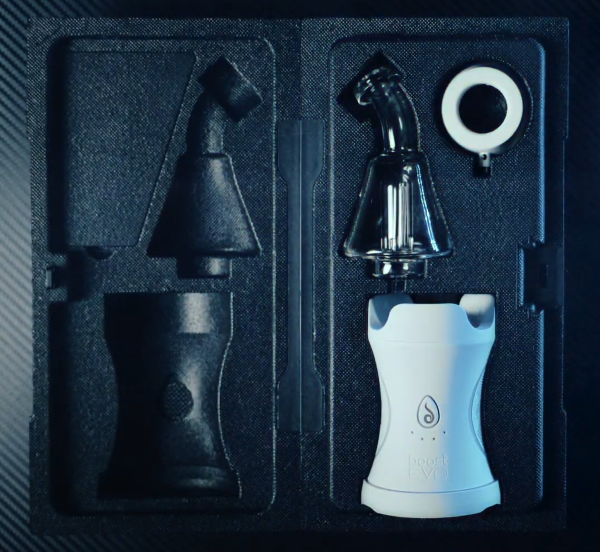 The Boost EVO's carrying case also features some additional small details that are very welcomed to it, including a sliding lock that ultimately helps to keep the case securely closed during its transportation as well as a hidden storage compartment inside it that's responsible for keeping both the device (meaning the Boost EVO dabbing tool) and it's proprietary Charging Cable safely and neatly stored away during transport.
Moving on to the unit's design, this portable high-end battery-powered vaporizer e-rig features a very minimalist, yet gorgeous design with really striking colors. The Boost EVO comes in simple design that's aesthetically pleasing to look at, while also featuring a final finish around its contours that make it a unique and luxurious piece of technology for you to take your dabs with.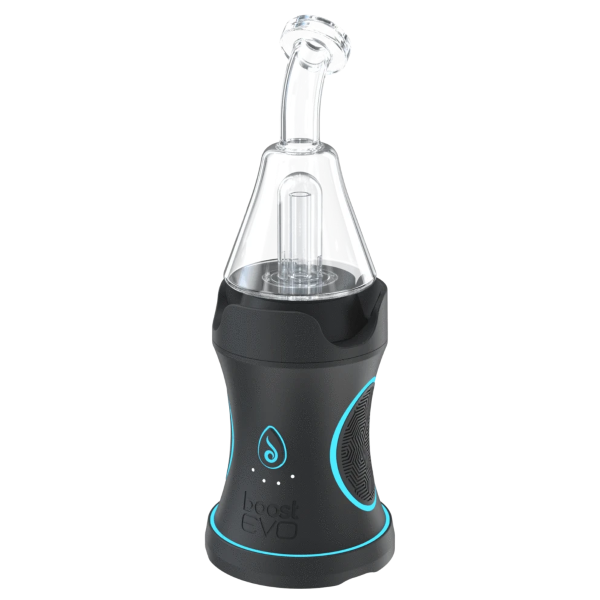 Going deeper into the "durability" side-of-things, I'd like to note that the company (Dr. Dabber) is definitely one of the bigger names in both the e-rig and wax pen markets. While their very initial units were somewhat average and featured one or two simple issues, the company was quite happy (and very smart) to listen to their customers' feedback, and thanks to that, they quickly came up with newer devices that were bound to challenge the vaporizer devices market.
With that said, just like the company's next-gen Dr. Dabber SWITCH Vaporizer (which we previously reviewed in full here at GadgetGram), the Dr. Dabber Boost EVO E-Rig also features both innovation and clever engineering when it comes to its build quality. Overall, this battery-powered dabbing e-rig is extremely well crafted, as it is made of highly durable materials.
Around the dabbing tool's body we have two (x2) smooth grip pads (one on each side) that basically offer users an enhanced ergonomic grip when holding the device.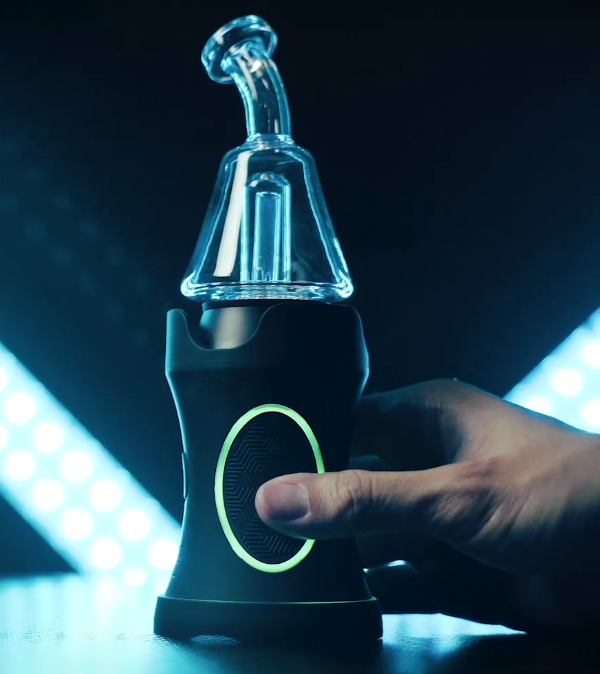 Now, regarding this battery-powered dabbing e-rig's functionality, it's important to note that the Boost EVO just integrates four (x4) different main components. Those are its base (the bottom of the unit), an innovative Magnetic Quartz Atomizer that comes with a built-in temperature sensor, a Quick Connect Adapter (for airflow release) and the unit's included Pure Glass Vapor Path Attachment.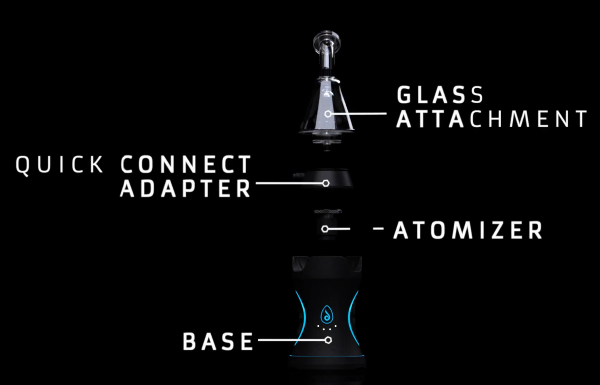 Additionally, the Dr. Dabber Boost EVO comes equipped with a really high-quality quartz chamber that features an impressively fast heat-up time (discussed further ahead).
SETTING UP
Moving on to the setup of this battery-powered dabbing e-rig. Setting up the Dr. Dabber Boost EVO is a fairly straightforward process, and after you've used it for a couple of times, you'll most likely get used to both assembling and disassembling the unit to respectively use it and then clean it after your done dabbing your tasty vapes.
The first thing you have to do is to get the base ready on a flat surface. Then you have to insert its default 15mm Magnetic Quartz Atomizer to its top opening, which is responsible for handling your draws in a very nicely sized manner. Keep in mind that while this opening can handle a decent load of material, it's recommended that when your first trying out this dabbing e-rig you go with a simple and small material sample (around the size of a grain of rice), just so you can get started and get a better understanding of how much material you're supposed to used.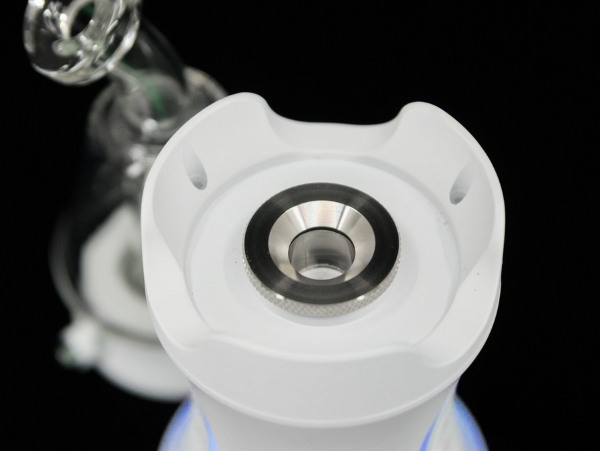 While a hot hit will require you to heat up the atomizer before loading your material into the unit's quartz chamber, a cold hit simply requires you to load your choice of material into the unit's atomizer, and then heat it up for some delicious and consistently flavorful clouds.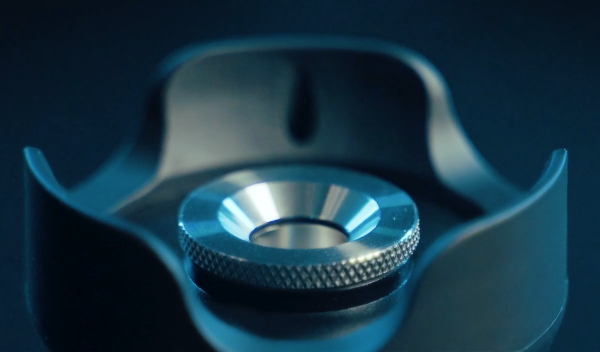 After equipping your Boost EVO with its 15mm Magnetic Quartz Atomizer, you'll need to insert its Quick Connect Adapter with an integrated airflow release, which is what will allow you to have an easy time clearing the unit's internal quartz chamber from the remaining "material clouds" at the end of each of your dabbing sessions by offering you a quick and easy airflow release button that's very intuitive to use.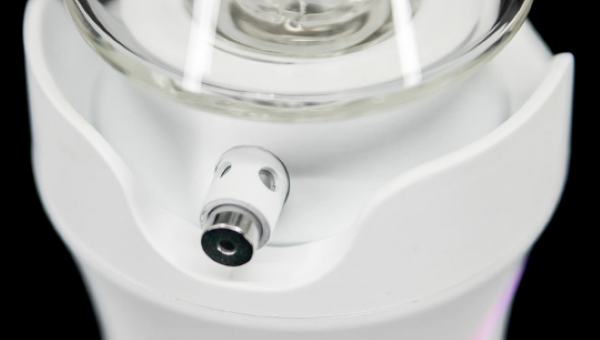 Ultimately, the Boost EVO's simple modular dis-assembly makes cleaning the unit a very easy task. Overall, cleaning the Boost Evo is a very low-maintenance process that can quickly be done by simply dipping a cotton swab in isopropyl alcohol and then using it to wipe-clean the inside of the unit's quartz chamber. You'll just have to repeat this process a few times to have the unit's internal quartz chamber perfectly clean and ready for your next use.
After integrating the Quick Connect Adapter on top of the unit, simply install its included Pure Glass Vapor Path Attachment, which will allow the Boost EVO to form a straight quartz-to-glass vapor pathway that's guaranteed to deliver you some delightful clouds of smooth and flavorful vapor.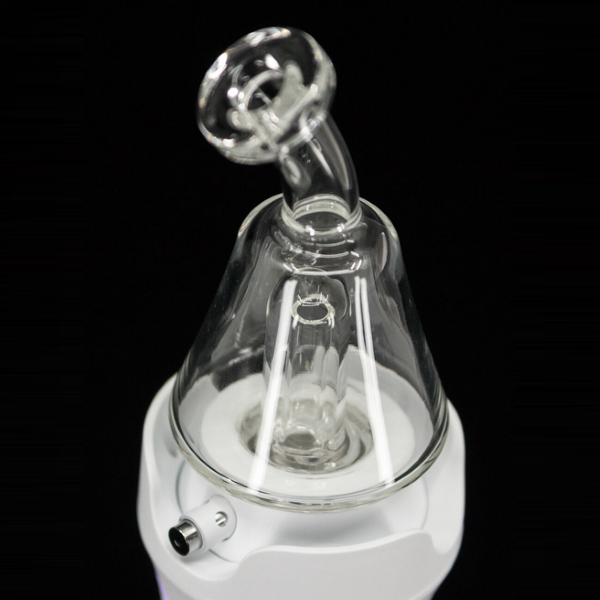 From there, all that you have left to do is to simply choose your temperature, let the unit heat up, and dab away. To do that, simply insert the carb cap over the unit's chamber and inhale in a very gentle manner. Lastly, remember to enjoy your clouds!
HOW DOES IT WORK?
Now we'll have a look at exactly how the Dr. Dabber Boost EVO's high-quality quartz chamber manages its impressively fast heat-up times.
Basically, this high-end battery-powered dabbing e-rig works via an intelligent heating technology that ultimately allows it to have a really short 11-seconds Heat Up Time.
Thanks to that, its heating method is super efficient, and so, the Boost EVO doesn't need much concentrate to produce some huge tasty clouds, which is something that every user will surely be happy to know.
INTERFACE
The Dr. Dabber Boost EVO comes equipped with one single Multi- Functioning Button, which brings you quite a few different functionalities, including turning the device On and Off, as well as changing between its 6 different temperature settings, or even adjusting the unit's RGB lighting scheme.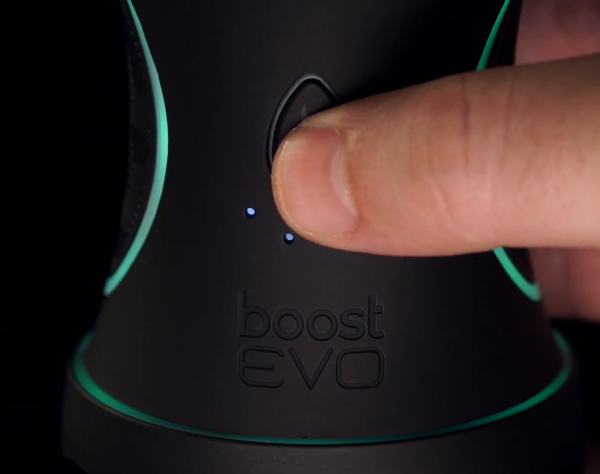 By pressing the Multi- Functioning Button in different combinations you can execute different functionalities. 5 Quick-Taps allow you to turn the unit On and Off.
4 Quick-Taps will trigger the device to enter Stealth Mode (shuts off its RGB Lights), while 2 Quick-Taps allows you to change between several different Light Modes.
Laslty, 3 Quick-Taps allow users to change between the device's 6 different Temperature Settings.
NOTABLE FEATURES
6 Different Temperature Settings (500°F – 750°F)
The Dr. Dabber Boost EVO offers its users a total of six (6) different temperature settings that can be adjusted between 500°F, 550°F, 600°F, 650°F, 700°F, and 750°F, and those allow you to either get colder or hotter hits when dabbing your choice of material with this dabbing e-rig.
RGB Ambient Lighting
Additionally, the Boost EVO also integrates built-in LED circle-lights throughout its body that make using the unit with friends a very fun and interactive experience.
BATTERY & BATTERY LIFE
Now, within the base of the unit we have the Boost EVO's built-in rechargeable battery, which delivers an exceptional battery life that provides users with around 60-ish hitting cycles (give or take) on a single charge.
Each hitting cycle also only features a 20 to 40 second hold time (this will obviously depend on what temperature setting you decide to go with).
Now, the dabbing e-rig's internal battery actually features an Auto-Shutoff functionality that's automatically triggered after 15 minutes of inactivity, and that will ultimately help you to conserve the device's battery, as there's nothing more stressful than a flat battery when you're just about to start your next relaxing dabbing session with friends.
Under the device's Multi-Functioning Button we can find a set of 4 LED Lights that will inform you about the unit's remaining battery.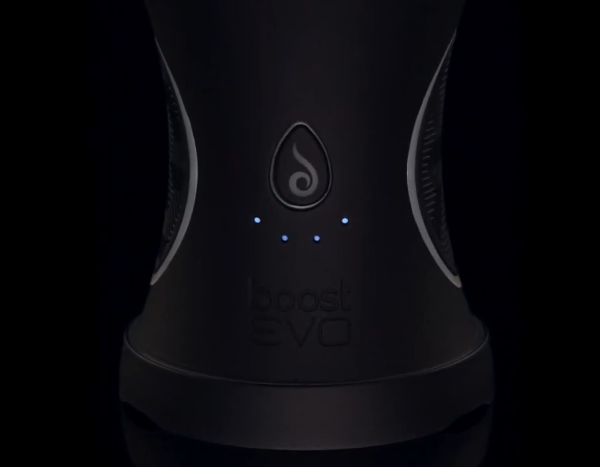 Additionally, the unit's internal battery also features a built-in protection against over voltage and short circuits, so you're also covered on that aspect.
Lastly, a Pass-Through USB-C Charging functionality allows you to keep using the device, even while you have it connected to its charging cable.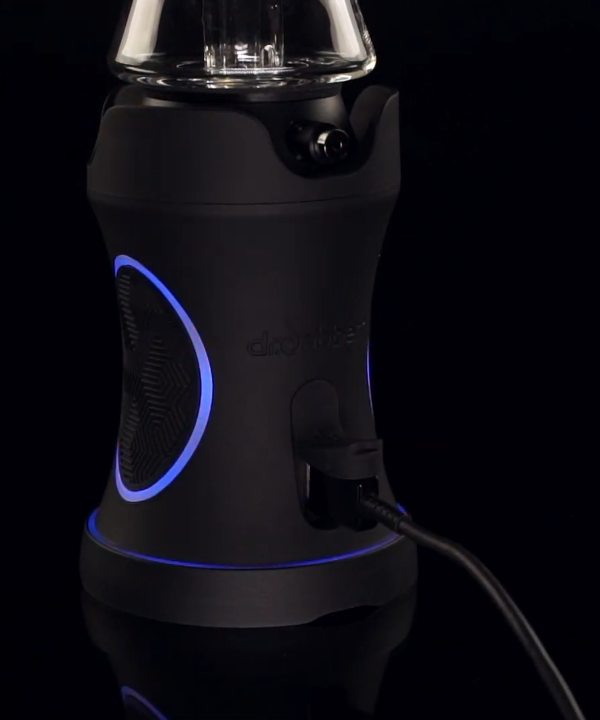 Speaking of which, the device's USB-C Charging Port can be found at the back (the rear) of the unit, right under a silicone flap that keeps its USB-C Port (as well as all of its internal components) perfectly protected from any debris that could potentially enter through that gap.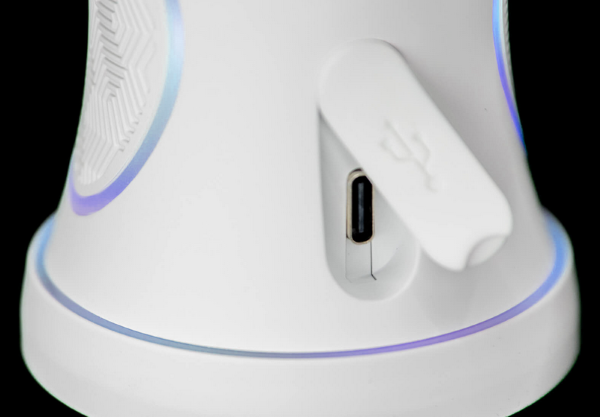 FINAL THOUGHTS
The Dr. Dabber Boost EVO is a high-end battery-powered vaporizer e-rig that's easy-to-use, featuring 6 temperature control settings, quick heating times, and smooth flavorful hits of vapor, making it a solid choice to go with when compared to most other models.
Overall, its super compact and portable design makes the unit a very reliable dabbing e-rig to have around to use as your go-to vaporizer, while its simple-assembly and easy-to-use set-up attachments make it very easy to assemble, as well as disassemble for cleaning the unit internally. Lastly, it's protective carrying case makes it very easy to carry the Boost EVO with you at all times.
When compared to other models on the market, you'll most likely want to go with the Boost EVO, as its temperature settings and quick assembly process make using this dabbing e-rib a very comfortable and intuitive experience.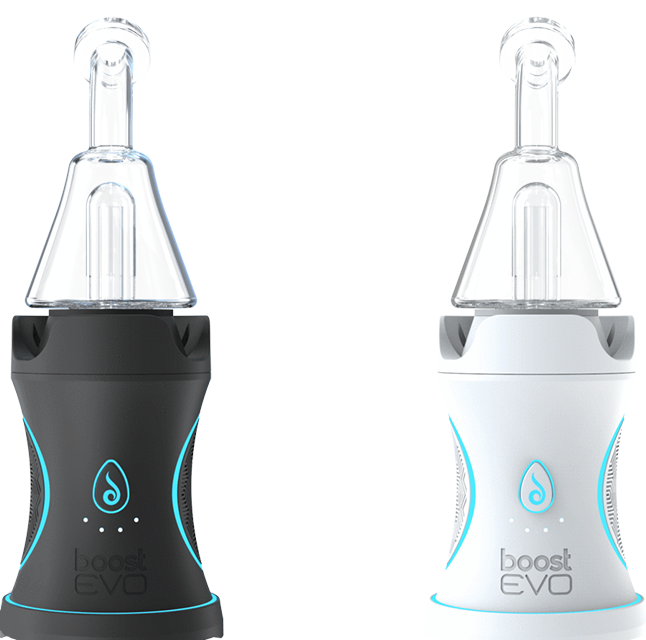 The Dr. Dabber Boost EVO is currently available in two (x2) different color models: Eclipse Black and Moon White.
If you're interested in buying it, each unit is currently going for $329.95. You can order yours online right now, directly from Dr. Dabber's official shopping page, which you can access by clicking this link.