With the summer coming to an end, a new school year takes place. Students of all ages dust off their backpacks and brace themselves as they return to school for another year of studying, where they'll learn new things and work hard to achieve new goals. But students aren't the only ones looking to come back to the hallways of knowledge. Teachers too prepare themselves to get back to school, carefully planning their yearly schedule with everything they'll be teaching their classrooms to provide them with the fundamentals they need to thrive in their future lives and hopefully chase their dream jobs. Now, with a new school year starting, both students and teachers will be looking to restock on school supplies to make sure they have everything they need to start the year right. Whether you're a parent simply looking to get your kid a brand-new backpack, replenish on notebooks, pencils and pens, or even if you're a college student looking for some new gadgets that can help you keep up with the technological advancements of education, you can find everything you need for your school year at an affordable price through Staples School Supplies Sale.
Gadget Gram's own Editor-In-Chief, David Novak, recently had the pleasure to interview Mr. Brian Moore, who's the General Manager of Staples Store in Indianapolis, during which he discussed some of the best gadgets currently available at Staples which can help college and high-school students to be more productive in their school work.
In our interview with Brian, he proudly mentioned that "Staples not only focuses on offering its customers great prices everyday, but the company also does an effort to know exactly who their customers are so that they can provide them with all the products they're looking for and need, including school supplies of course, all of which are available for purchase at an affordable cost."
Brian also added to his statement, saying: "Whether it's simply pencils and pens, notebooks, 24-pack crayons, and other basic school products, or even higher-end devices such as headphones that will last and have great sound-quality, Staples' School Supplies section has just about everything to meet everyone's needs."
Staples School Supplies Sale not only includes younger students such as pre-schoolers and mid-schoolers, as well as older students who are already in high-school or in college.
From all of Staples' school supplies, we'll be highlighting three outstanding gadgets for students, which you can read and learn more about below:
---
Logitech MX Keys S Wireless Ergonomic Keyboard and Optical Mouse Combo
Firstly, we have the Logitech MX Keys S Wireless Ergonomic Keyboard and Optical Mouse Combo. This wireless keyboard and wireless mouse are particularly engineered to get you in a state of workflow for hours of comfortable productivity, and also come together with a palm rest for a more comfortable use.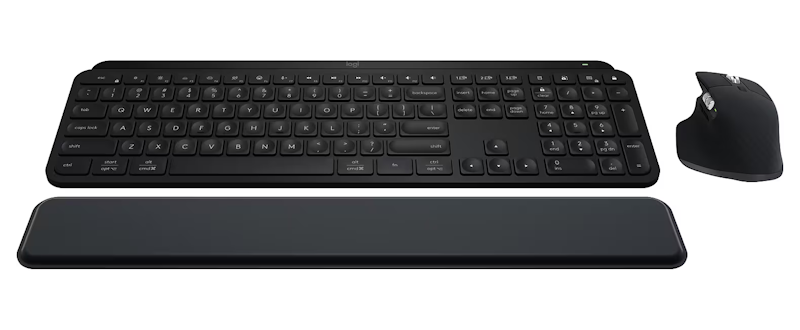 Logitech MX Keys S Wireless Illuminated Ergonomic Keyboard
The Logitech MX Keys S is a high-performance wireless illuminated keyboard featuring a low-profile ergonomic design with an optimal angle for a natural wrist position, providing you with a comfortable, fast, precise, and fluid typing for several hours on end. It also features unique spherically-dished keys with increased key stability, which helps to minimize the chances of a mistype and also reduces noise.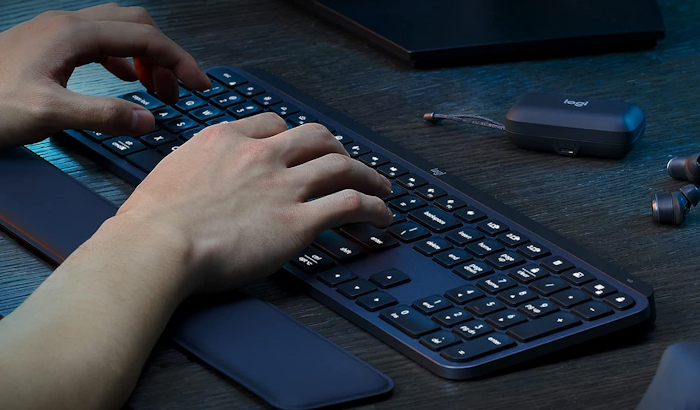 The keyboard's keys are also programmable, as they can be configured with time-saving Smart Actions as secondary functions that allow you to skip repetitive actions by automating multiple tasks with a single keystroke.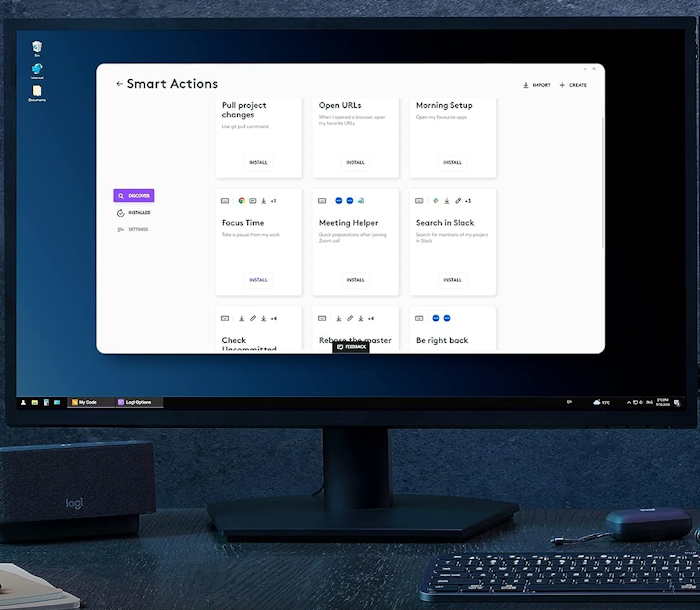 Moreover, this advanced wireless keyboard also features customizable smart backlit illumination, boasting ambient light sensors that adjust backlighting brightness, and also hand proximity sensors that turn the backlighting on as your hands approach its keys. Users are also offered more lighting customizations via the Logi Options+ App.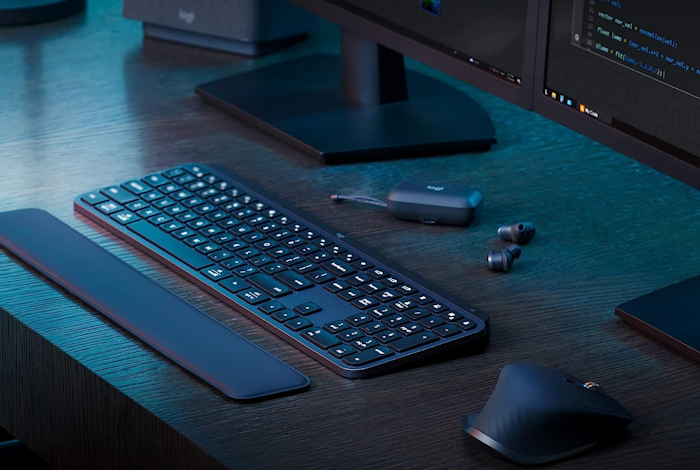 For its connectivity methods, the Logitech MX Keys S features both Bluetooth Low Energy connectivity, as well as USB connectivity via its included Logi Bolt USB receiver. The keyboard can be paired wirelessly with up to three Bluetooth-enabled devices (PC, laptop, smartphone, etc.), and it also integrates easy-switch keys that can be used to conveniently switch between those devices at the push of a button.
For power, this wireless keyboard utilizes a 1500mAh rechargeable Lithium-Ion Polymer battery, which offers you up to 10 days of battery life with predefined settings, or up to 5 months of battery with backlighting turned Off. The keyboard also integrates a set of battery indicator lights for easily keeping track of its battery level.
Logitech MX Master 3S Performance Wireless Mouse
In addition, you also get the Logitech MX Master 3S, a wireless mouse designed to take your productivity further, as it is equipped with a total of seven buttons, including left and right click buttons, a middle click, a wheel mode shift, back and forward thumb buttons, and an App switch, while also featuring a scroll wheel, a thumb wheel, and a gesture button.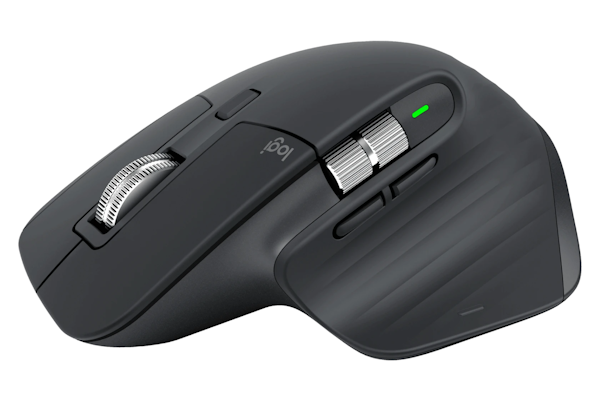 Its buttons also integrate Logitech's new Quiet Clicks technology, which deliver a satisfying and soft tactile feedback with 90% less clicking noise. Furthermore, its high-performance scroll wheel boasts MagSpeed Electromagnetic scrolling, making it nearly silent, precise enough to stop on a pixel, quick enough to scroll 1,000 lines per second.
Just like the keyboard, the MX Master 3S mouse also features Smart Actions, allowing you to customize individual buttons with secondary functions in order to optimize nearly every aspect of your workflow.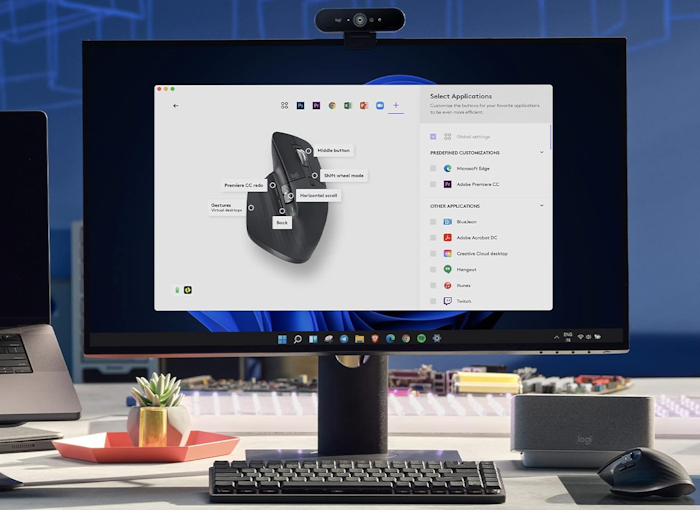 For tracking its movement, this wireless mouse boasts a next-generation 8,000 DPI track-on-glass 134mm optical sensor powered by Darkfield high precision sensor technology that offers you super accurate tracking for its mouse cursor movement on any surface, even glass.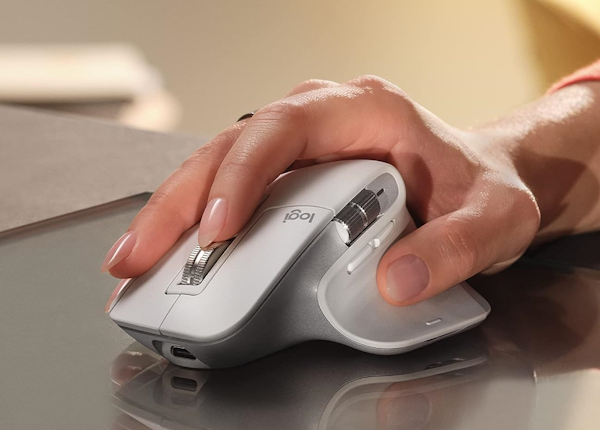 For its connectivity, the Logitech MX Master 3S boasts Bluetooth Low Energy connectivity, can also be paired wirelessly with up to three Bluetooth-enabled devices, and it also features a set of easy-switch keys for easily swapping between devices.
For power, the mouse utilizes a 500mAh rechargeable Lithium-Ion Polymer battery, which offers you up to 70 days on a full charge, and students can get 3 hours of battery from a one-minute quick charge.
Both the keyboard and mouse are compatible with Windows, macOS, Linux, Chrome OS, iPadOS, Android operating systems.
The Logitech MX Keys S Wireless Ergonomic Keyboard and Optical Mouse Combo is currently available in two (x2) sleek color options: Black and White.
If you're interested in purchasing this wireless keyboard and mouse combo (w/ included palm rest), know that each set is priced at just $199.99. You can order it online directly from Staples' official shopping page.
---
Logitech Zone Vibe 100 Wireless Noise Canceling Bluetooth Headphones
Secondly, there's also the Logitech Zone Vibe 100, a pair of noise cancelling Bluetooth headphones that are professional enough for studying at the school's library, but also casual enough for doing school work from home, as they're designed for work, play, and listening to music on a daily basis.
These noise cancelling Bluetooth headphones are very lightweight, and come equipped with high-quality memory foam ear pads that make them super comfortable to wear, even for long periods of time.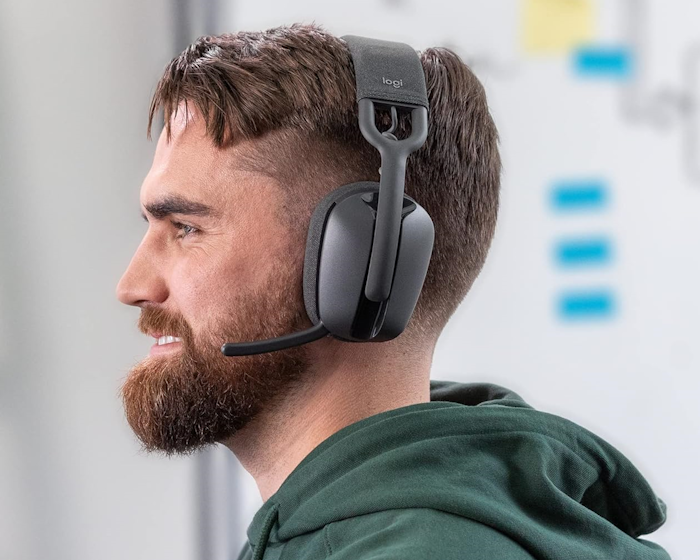 They can deliver an incredibly immersive audio, as they're powered by a set of 40mm speakers, making them capable of delivering a rich and crystal clear audio with crisp highs, a deep bass, and very low distortion.
These headphones also integrate built-in noise-cancelling microphone powered by directional beamforming technology and DSP digital signal processing technology, which ensures their microphone can accurately capture a user's voice clearly while eliminating unwanted background noises.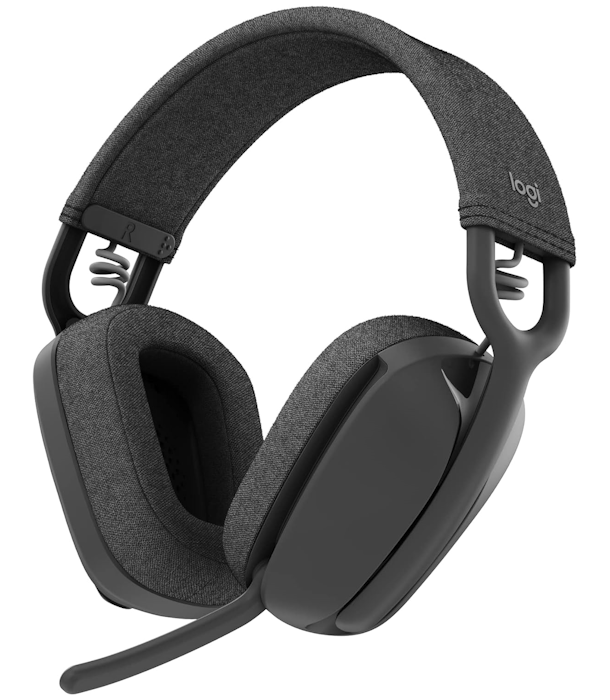 The headphones' microphone can be be flipped down when you're using them for voice calls, or tucked away when you don't require it, providing you with immediate privacy at moment's notice.
For their wireless connection, they boast Bluetooth 5.2 connectivity, while also supporting Bluetooth Multipoint connectivity for easily switching between previously paired devices.
These headphones are also compatible with most popular video platforms, such as Microsoft Teams, Google Meet, and Zoom, making it simple and easy for students to join any voice call for studying and for planning group activities.
For power, they utilize a built-in Lithium-Ion battery that offers users up to 18 hours of battery for voice calls, or up to 20 hours battery for listening to music on a full charge.
If you're interested in purchasing the Logitech Zone Vibe 100 Headphones, know that each unit is going for just $99.99. You can order it online through Staples' official shopping page.
---
Texas Instruments TI-84 Plus CE 10-Digit Graphing Calculator
Lastly, for students attending Mathematics, Physics, and Chemistry classes, there's the Texas Instruments TI-84 Plus CE, a high-end Non-CAS (computer algebra system) 10-digit graphing calculator that's specifically approved for use on PSAT, SAT, and ACT exams, as it integrates all the tools necessary for performing all the calculations and operations those tests typically present to students.
This graphic calculator is lightweight, durable enough to withstand the demands of the classroom, and also features an ultra-thin design, allowing it to fit neatly inside any backpack or pocket.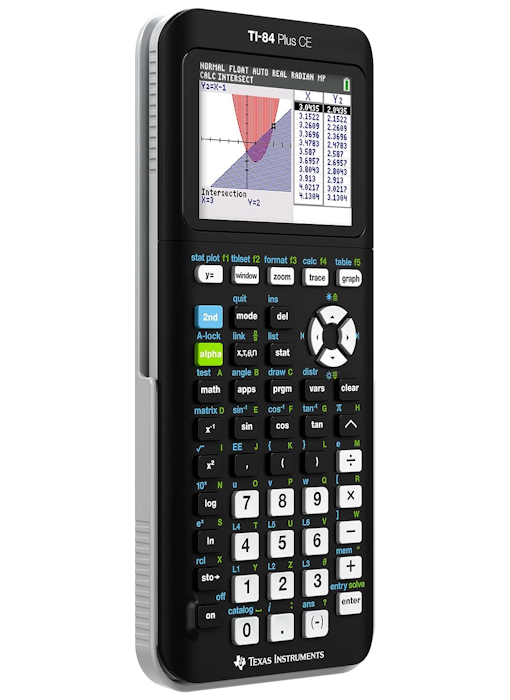 The calculator comes equipped with a high-resolution 10-digit backlit LED color display that delivers bright, clear views of graphs, equations, and other figures, while also boasting several color-coding options that let you distinguish between plots and points with better accuracy. Its display also boasts both horizontal and vertical split-screen settings.
Boasting 3000KB of ROM memory and 154KB of RAM memory, this high-end graphic calculator has enough capacity to tackle complex computing with ease.
For writing equations, this calculator supports the use of symbols, can calculate fractions, and can also draw graph expressions, for which it integrates a total of 7 different graph styles for differentiating the look of each graph drawn.
Additionally, it also boasts a MathPrint Mode function which displays most inputs and outputs in textbook format, plus fourteen interactive zoom features for easily visualizing operations and graphs.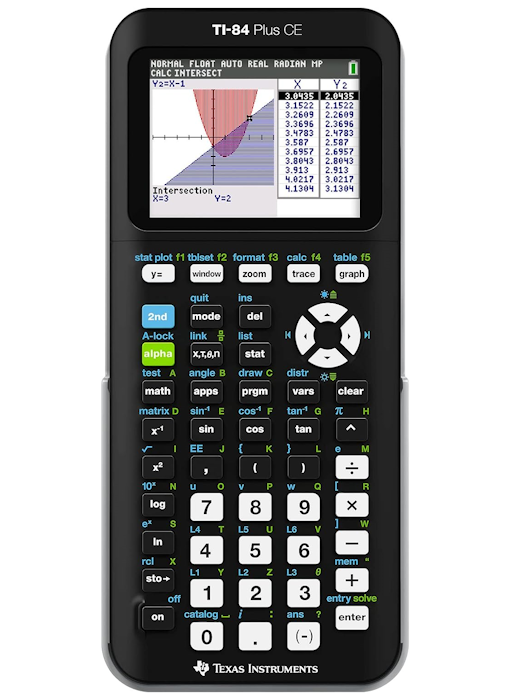 What's even cooler is that the Texas Instruments TI-84 Plus CE also comes pre-loaded with many images and a wide range of Applications, including: Cabri Jr., CellSheet, Conics, Inequality Graphing, Language Localizer, Periodic Table, Polynomial Root Finder/Simultaneous Equation Solver, Probability Simulation, Science Tools, TI TestGuard, Transformation Graphing, and Vernier EasyData.
Parents will also be happy to know that this graphic-calculator boasts no Bluetooth or Wi-Fi connectivity, nor internet access whatsoever, meaning their kids will be able to use it for studying and learning without any sort of distractions.
The calculator is powered by a TI rechargeable battery, which can offer students up to 1 month of battery on a single charge.
The Texas Instruments TI-84 Plus CE is currently available in a variety of stylish and cool-looking color models, including: White, Black, Blue, Mint, and Rose Gold.
If you're interested in purchasing it, know that each unit is priced at $139.99. You can order it online via Staples' official shopping page.
---
---
OTHER STAPLES SCHOOL SUPPLIES OFFERS
In addition to the three products highlighted above, Staples has many other affordable savings deals on Back to School products, which are available for both students and teachers alike.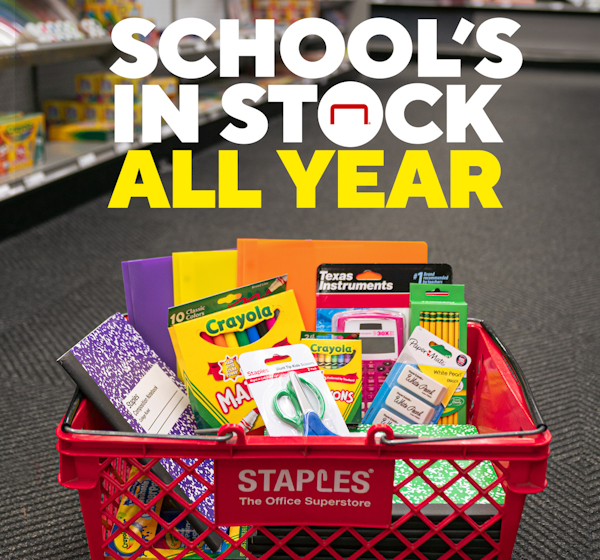 For students past the high-school phase, who nowadays are past the time of using paper notebooks for taking important notes, one great option is Staple's great assortment of electronic deals, especially on devices from HP, which includes some fantastic PCs and laptops that can help students to be productive in their day-to-day life in college.
In regards to tablets, Staples also has many different Apple tablets available for purchase.
In addition, Staples also has a wide range of printing offers available, including affordable high-end printers (and printing supplies) that students can easily set up in a dorm room or an apartment while they're away from home to ensure they can stay productive as they go through college.
And obviously, all parents know that it's not just working and studying 24/7, as students also need to take a break from time to time to enjoy themselves, have fun, and relax at the end of the day. For that, Staples also has many different gaming products available, including gaming consoles, controllers, racing wheels and pedals, as well as gaming monitors, Bluetooth speakers systems, and more.
---
---
OTHER CUSTOMER SERVICES AVAILABLE AT STAPLES
Customer Tech Support
For customers looking to get support when facing issues with their PCs and/or tablets, Staples has their industry-leading tech protection plan, called the Staples Total Support Plans, which are available on a 24/7 basis, 365 days a year.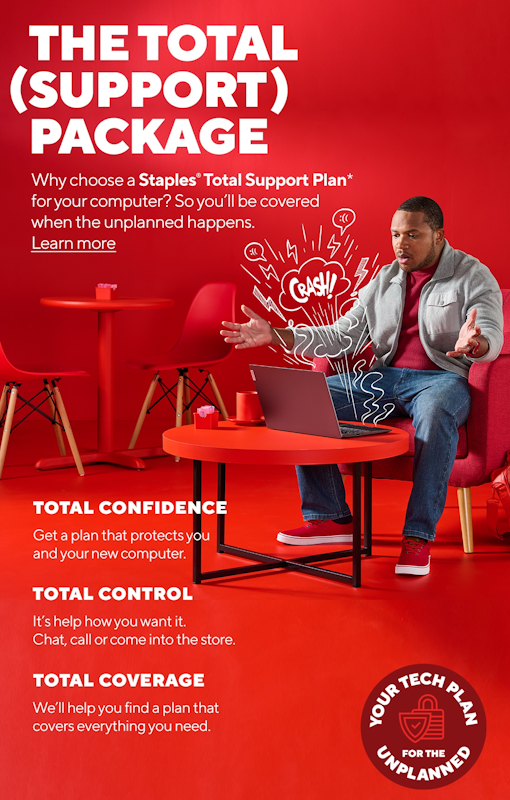 From unexpected failures such as hard drive crashes, to laptop smashes, viruses, malware, and even identity restorations against identity theft, Staples' Total Support Plans include a Next-Day Service Guarantee, for which if customers deliver their faulty device by noon (12:00) the previous day, the company will have that same device ready and running properly again by 5 PM (17:00) the next day.
Furthermore, Staples' Total Support Plans also include unlimited tech support on connected devices for both in-store and remote connections, meaning that you'll also be covered on the off-chance that on Christmas Day when all of Staples' stores are closed, if your PC ends up with a virus, the company still has ways to get your tech issues taken care of.
Staples' Total Support Plans can be as short as 2 years and as long as 4 years, and start at $199.99 with no additional fees for new and existing computers, even including coverage against other problems such as rob and break-related issues.
Tech Trade-In & Recycling Program
Best of all, Staples also has a recycling trade-in service available in-house called the Staples Free Tech Take Back program, via which they recycle all sorts of electronic devices, including printers, PCs, monitors, and even batteries, with the focus of keeping those products out of the landfill by sustainably recycling them so that all of the components that integrate them can be re-used once again.
Customers that recycle their electronics through Staples's Free Tech Take Back program will receive a $5 Rewards Coupon sent to them, and $2 a piece for each ink and toner cartridge that they deliver to be recycled.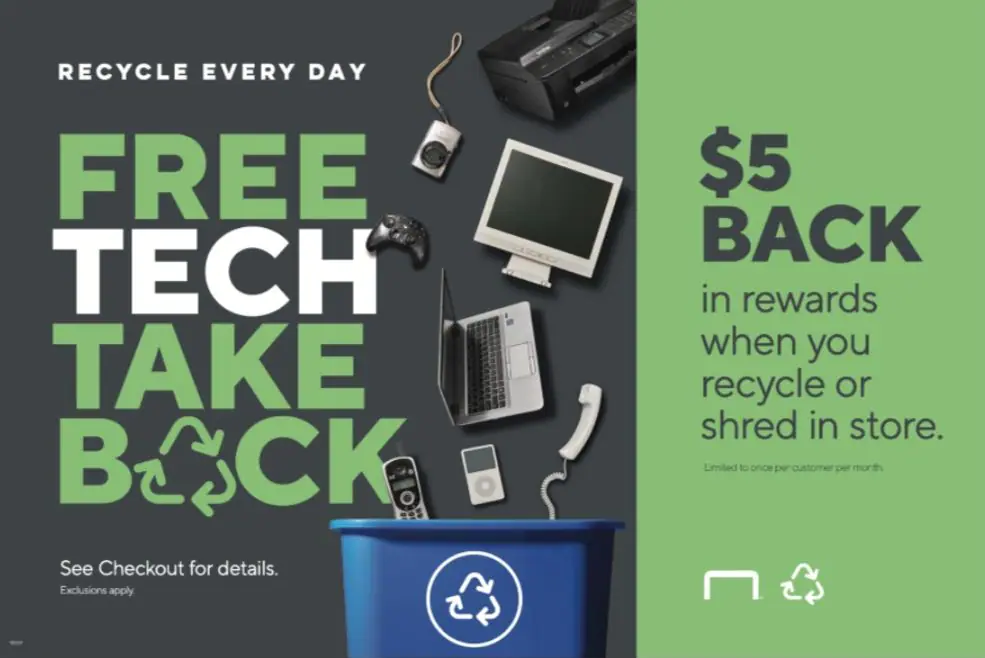 Staples Connect App
Lastly, Staples has also recently released the Staples Connect App (available for both iOS and Android devices), via which customers can manage all of their their shopping needs, any Staples' tech support services that they're currently subscribed to, any rewards they might have earned which can be easily redeemed within the App, and much more, all right from their phone.