Remember how when the idea of a smart watch arose a few years ago, many (most?) people really had no idea what the point was? The general sentiment was a mix between 'oh yet another gadget', and 'you mean a smart phone combined with a watch?' with perplexed expressions in more than a few circles. Well yet another entry in this device class totally takes it to a new level. This is officially the year of the smart watch and the Ish Watch has taken it a stunning step further. It only cares when it's 5 o'clock!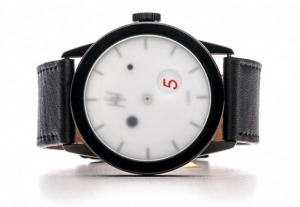 Yes you read that right, this watch only cares when the sun is at 5 o'clock high. That is really an awesome idea and it doesn't take much thought to get there. It's for people who aren't concerned about the time and don't really want to know it either. It isn't for everyone, but it is for those who just need to get their work done, and when the time is up, that's when it really matters.
It has a bottle opener, but nothing in the way of a cup holder, yet still it is inherently intuitive. The face of the watch isn't the easiest to see except for the 5 o'clock marker. It would be cool if you could shift the face to reveal whatever time you want, but maybe that comes in the next edition. The premise seems to be that you do all that you can regardless of the details. This is the Al Bundy of smart watches. Make no mistake, this is an extremely smart watch.
A gag you say? Appealing to the bourgeois among us? Well I know what a few of my loved ones will be getting for those special days that we use to pass the years along and it's the Ish. At $150, it will do everything that you need it to do. Nothing more, nothing less. You can purchase it directly from the manufacturer, Happy Hour Timepieces (I want to work there). However, you might want to try and get a hold of someone before 5 o'clock rolls around.