Away Travel is fairly new to the luggage game, but they're making quite a splash with their rugged yet lightweight carry-ons and larger checked bags. The company's mantra, "first class luggage at a coach price", is no joke. Selling directly to the consumer cuts out a lot of retail fat, and Away is selling premium quality luggage at much lower prices.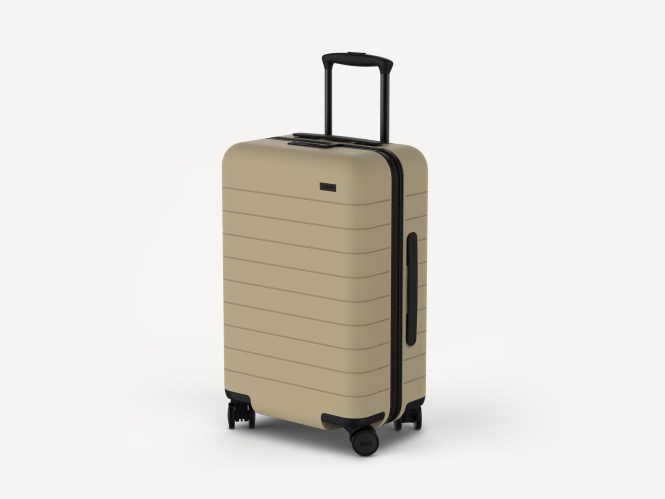 Away Travel Luggage Features
At $275, the Away Travel "The Medium" is also one of the least expensive polycarbonate shell luggage pieces around. Essentially, it's a midsize checked bag, with an unbreakable shell, interior compression system and removable laundry bag.  It's pretty compact for the amount it can hold, and it's also stylish and durable with 4 rugged wheels to zip you through the airport.
The Nylon laundry bag separates clean clothes from dirty laundry, and the included compression pad helps free up space. The 360-degree Hinomoto double-wheel spinners are durable and auto-correct themselves when rolling so you're always assured that your suitcase is rolling in the direction you want it to.
The Away Travel Medium also has YKK zippers, and TSA-approved locks so that no one can get in your luggage except authorized personnel.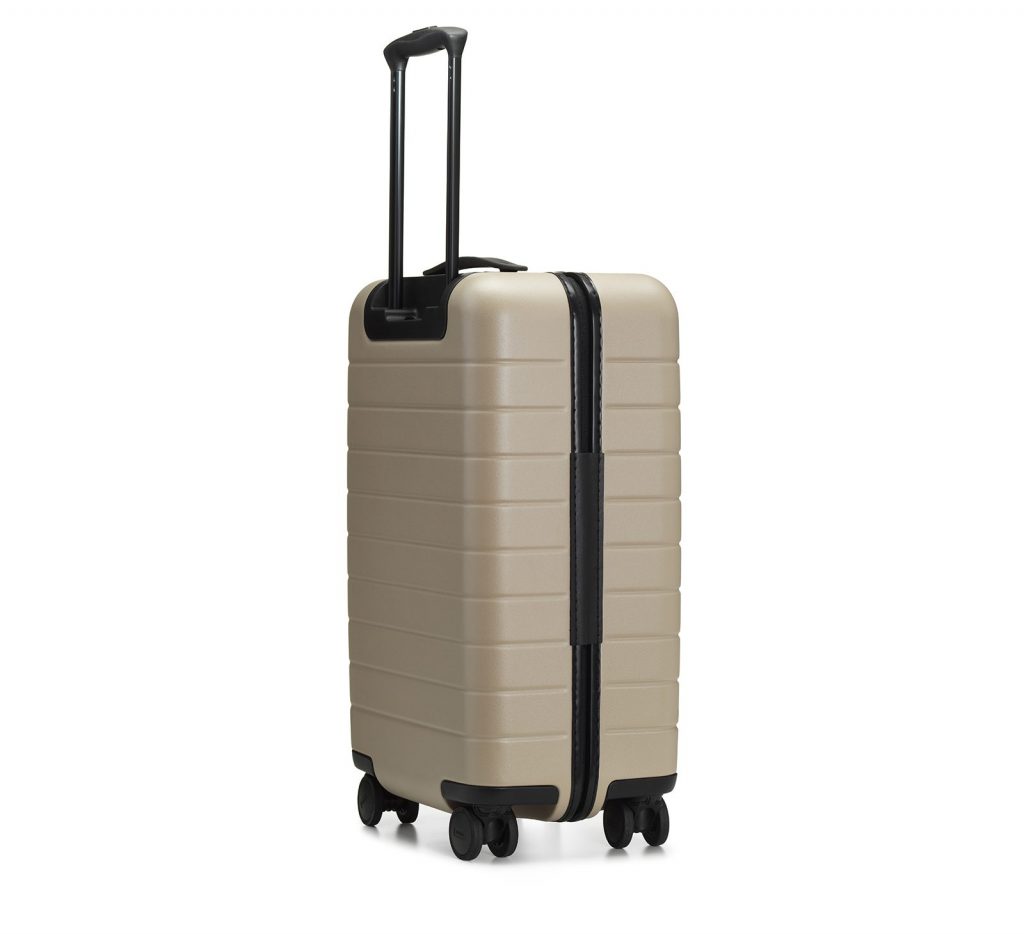 Construction
The outer polycarbonate shell can definitely take some abuse, even though it appears it's flimsy. That's because polycarbonate is thin but extremely strong, and the scratch-resistant matte surface will keep your luggage piece looking great for years. Additionally, the Medium includes a very sturdy telescopic handle that will last you the life of the bag, no matter how hard you treat it.
The Hinomoto double-wheel spinners feel smooth extremely smooth and the bag glides with ease. There's also an easy-to-set, TSA-approved combination lock to protect your stuff from unwarranted strangers. If anything happens to the handle, wheels or shell, Away Travel gives you a lifetime warranty.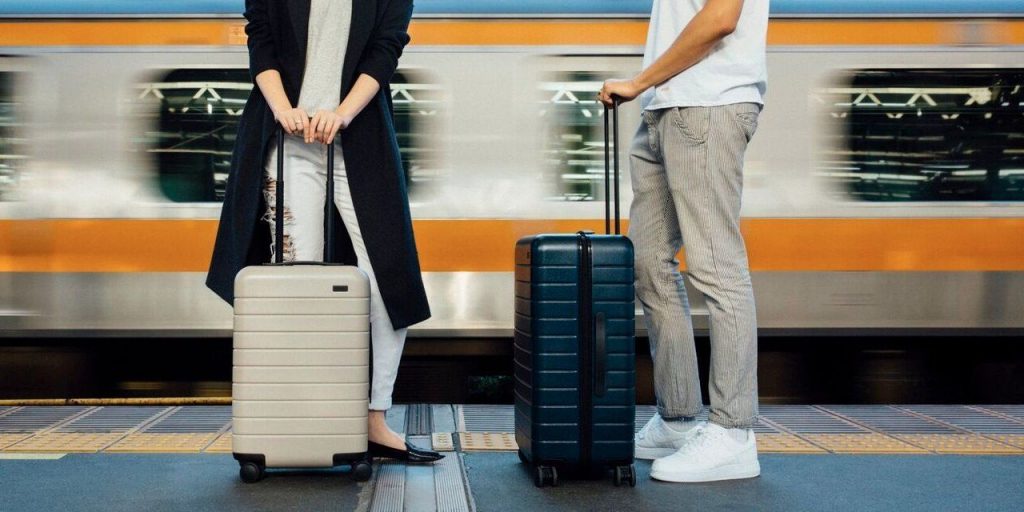 Use
The suitcase has a 62-liter capacity, so you'll be able to fit a ton in there, like a week's worth of clothes, even if you're a heavy packer. The left compartment has enough space for toiletries and shoes, and the bag measures 25-inches high, 17.5-inches wide, and 10.5-inches deep and weighs 8.5 pounds.
A great feature is the built-in compression pad. It has an interior zipper where you can store smaller things, all while freeing up more space when its buckled down. There's also a removable internal laundry bag that separates your dirty clothes from the clean ones.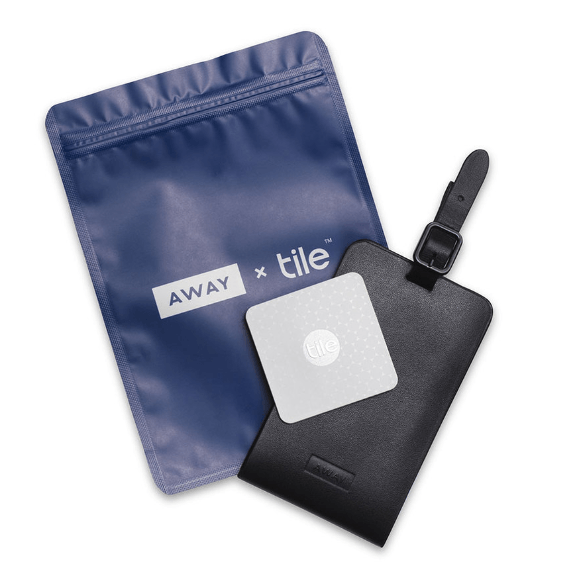 Away Travel also offers the Away X Tile, which is a locator for your luggage. Through the Tile app, you can track your bag's location wherever it goes. You simply place the X Tile in the zipper section of the compression pad, and it works like a charm.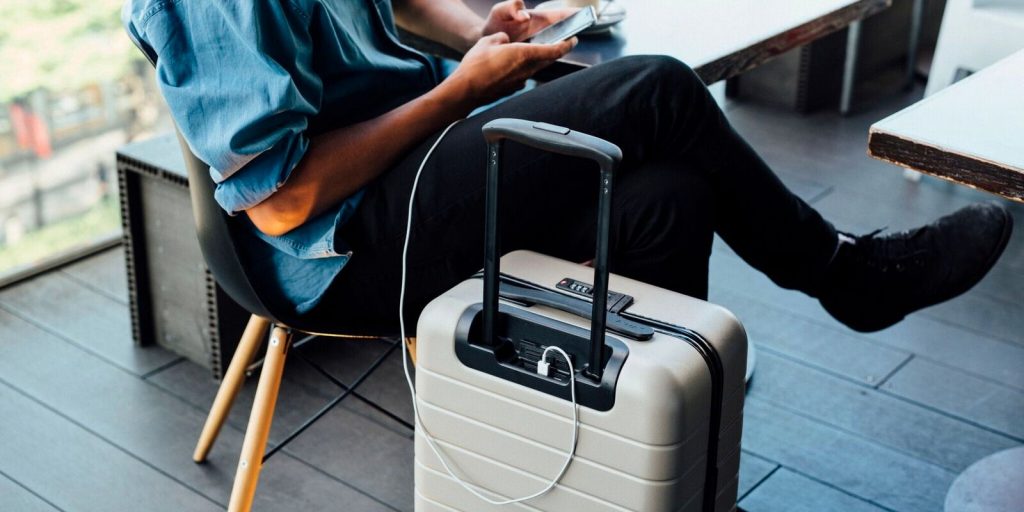 Other Options
Away Travel actually offers 4 different sizes of luggage: The Carry-On ($225, 38 Liter), The Bigger Carry-On ($245, 46 Liter), The Medium ($275, 62 Liter) and The Large ($295, 86 Liter).  All come in a plethora of colors including black, blue, green, sand, brick, asphalt and Minions yellow. The 2 carry-ons include two USB ports and in total, you'll have 10,000 mAh of charging capacity, which is enough to charge your phone many times.
You can also check the battery's remaining capacity through the four white dots located near the USB ports. The Away Travel Carry-Ons also come with a screwdriver so you can remove the battery if you end up needing to check your carry-on.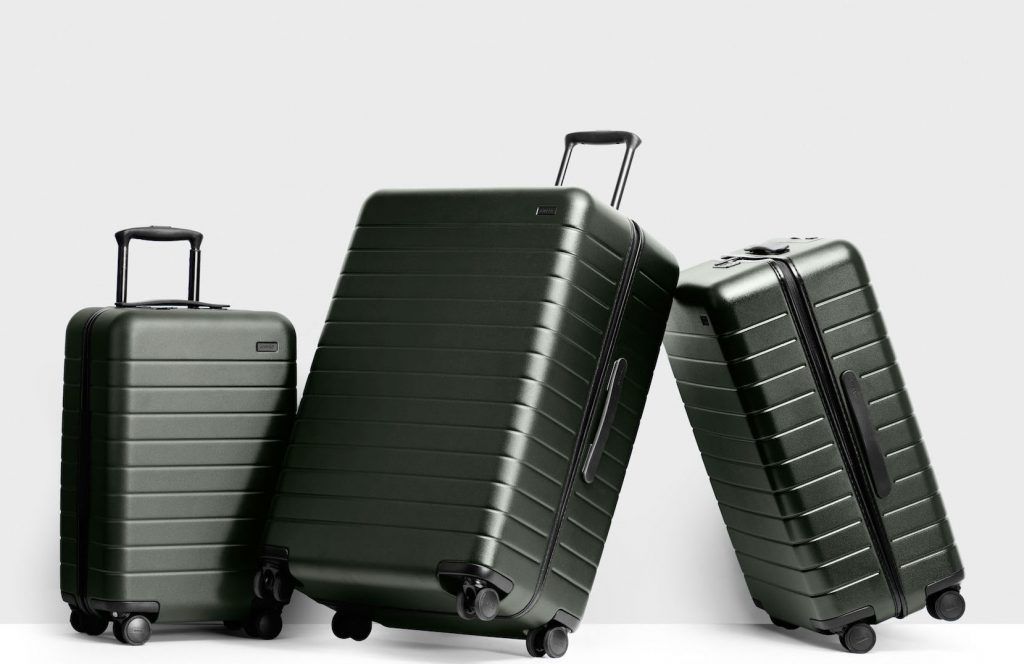 Bottom Line
The Away Carry-On Luggage line is a pretty damn cool entry into the space-age lightweight and durable luggage space. It has many useful features, and the carry-ons include a little tech into their offering, namely the USB ports and the powerbank. The Medium and Large luggage are checked bag pieces, that offer a ton of space and that same lightweight and durable design as the carry-ons.
The Medium, which we tested, is a perfect blend of size, function and weight. It holds a ton, but manages to be very manageable when wheeling it around an airport. If you're in the market for a new suitcase, check out Away Travel. The Away Travel "The Medium" sells for $275, and you can purchase it here.
To comment on this article and other GadgetGram content, visit our Facebook page, or our Twitter and Instagram feeds.