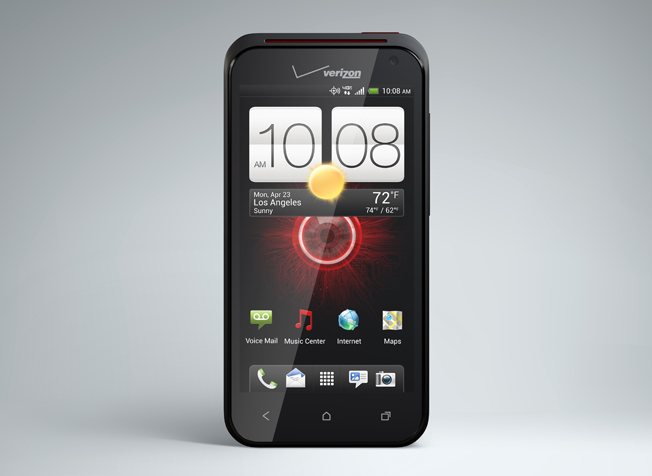 HTC and Verizon just unveiled their newest DROID-branded smartphone, the DROID Incredible 4G LTE.  It will launch in a few weeks, and the newest addition to the Incredible family features a 4-inch qHD Super LCD display, a dual-core 1.2GHz Snapdragon processor, an 8-megapixel camera, Beats Audio and Sense 4 atop Android 4.0 Ice Cream Sandwich.
No details regarding pricing were made available, however the phone made a brief appearance on Verizon's website listed at $299.99. The HTC One S, which the new Incredible is based on, is currently available from T-mobile without LTE connectivity for $199.99 on contract.
Check out the official press release…
HTC AND VERIZON WIRELESS REVEAL

DROID INCREDIBLE 4G LTE

New DROID INCREDIBLE Offers Advanced Camera Capabilities, Beats Audio and 4G LTE Speeds from Verizon Wireless

NEW ORLEANS and BASKING RIDGE, N.J. – From International CTIA Wireless®2012, Verizon Wireless and HTC today announced the new and exclusive DROID INCREDIBLE 4G LTE by HTC.  The new DROID INCREDIBLE 4G LTE enhances the customer experience by offering high-quality photo and audio capabilities, combined with the power of 4G LTE speeds.  Running the latest version of HTC Sense™ 4.0, HTC's branded user experience integrated with Google's™ mobile operating system, Android™ 4.0, Ice Cream Sandwich, the new DROID INCREDIBLE 4G LTE brings a sophisticated, pocket-friendly device to America's fastest 4G LTE network.

DROID INCREDIBLE 4G LTE by HTC features Beats Audio™ which is enabled across the entire experience for a rich and authentic sound whether customers watch a YouTube™ video, play a game, or stream music over 4G LTE.  Beats Audio allows customers to listen to music the way the artist intended with thundering bass, soaring midrange and crisp highs.

The DROID INCREDIBLE 4G LTE captures life's special moments with an advanced 8-megapixel camera with quick activation from the home screen so customers never miss that perfect shot.  Additionally, there's no longer a need to choose between shooting video or taking photos, HTC Video Pic™ allows users to shoot HD video and capture photos at the same time.  With 4G LTE speeds, sharing photos and video via email, uploading to the cloud or posting to social networking sites is a breeze.

DROID INCREDIBLE 4G LTE is packed with features to make life easier and customizable.  Customers can personalize and use lock screen shortcuts to quickly access their four favorite apps.  Folders can easily be created on any home screen for additional customization and organization.  A Read Later feature allows people short on time the ability to save browser content like news articles and websites that can be viewed later, even while offline.  The smartphone is also NFC capable so customers can take advantage of Android Beam™ to quickly share Web pages, apps, contacts and YouTube™ videos with friends by simply tapping two compatible phones together.

The Verizon Wireless 4G LTE network is available in 230 markets across the Unites States.  In real-world, fully loaded network environments, 4G LTE users should experience average data rates of 5 to 12 megabits per second (Mbps) on the downlink and 2 to 5 Mbps on the uplink.  When customers travel outside of 4G LTE coverage areas, devices automatically connect to Verizon Wireless' 3G network, where available, enabling customers to stay connected from coast to coast.

Additional features:       

4-inch super LCD qHD display
8 megapixel rear-facing camera with autofocus, LED flash, BSI, f/2.2 and 28 mm lens
Front-facing camera for video chatting with friends and family
1.2 GHz dual-core Qualcomm® Snapdragon™ S4 processor
Mobile Hotspot capable to share 4G LTE connection with up to 10 Wi-Fi-enabled devices
Support for up to 32 GB microSD™ memory card
1,700 mAh lithium ion removable battery

The new DROID INCREDIBLE 4G LTE by HTC will be available in Verizon Wireless Communications Stores and online at www.verizonwireless.com in the coming weeks.